I am Not My Disease - Personalized Dementia Care Platform
Challenge Set Winner (Institutional Caregivers) at DementiaHack 2015
The Problem
The experiences of people diagnosed with dementia are often characterized by continual transitions, but often, the biggest factor affecting their quality of life is consistency. As people move from independent living to receiving in-home care, to moving into an assisted-living residence, often what gets lost in transition are their preferences, personal history, and routines. These aspects are foundational to the consistency of their experience and, as a result, their quality of life.
How My Team and I Approached the Solution
Stakeholder Research
In addition to the secondary research, we also conducted interviews with a range of stakeholders, including personal support workers (PSWs), researchers at the Centre for Elder Research at Sheridan College, and clinicians. The purpose of these interviews was to further clarify our understanding of the experiences of actors within the realm of dementia care services, and to hone in on key priority areas that could be the focus of our work in the hackathon.
Secondary Research
Since it can be difficult to conduct primary research directly with people in sensitive environments like long-term care facilities, we used secondary research to bolster our understanding of the lived experiences of people diagnosed with dementia, as well as the experiences of caregivers (both family and institutional). We also examined the latest research in social and behavioural treatments for dementia, to better understand what types of therapeutic regimes could (or should) be accommodated within anything we chose to work on.
Design & Development
Throughout the course of the hackathon, we worked iteratively to design and develop a working prototype of our proposed platform, consulting with stakeholders throughout the course of the hackathon to ensure our design decisions supported their needs and empowered them to provide the type of care we envisioned.
The Solution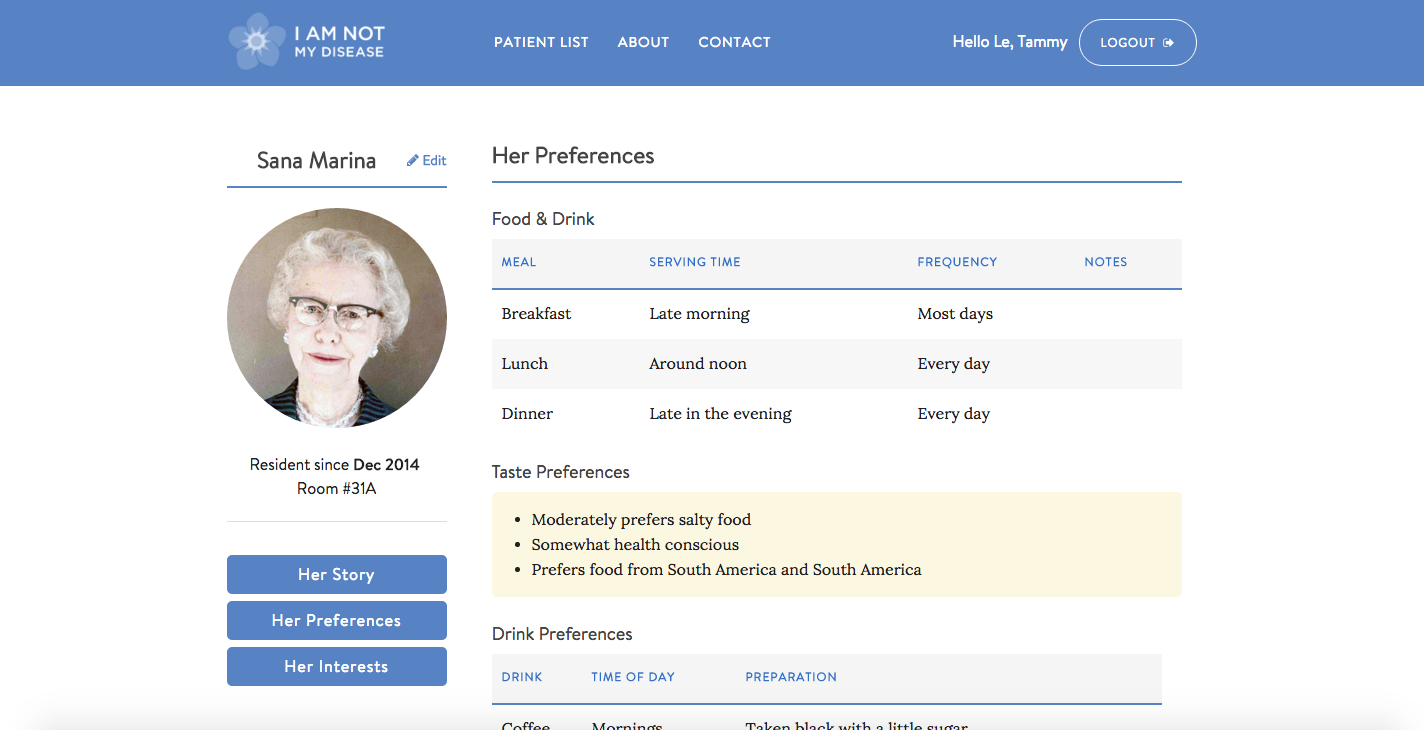 Our web platform preserves the identity and dignity of persons living with dementia by providing professional caregivers with personalized, actionable care information that transitions with the individual across their care continuum.
A new caregiver can read a resident's profile to learn their story, review their preferences, and even search their interests for activities that calm them. Daily care needs, like bathing routines, can be printed or available on a tablet so all caregivers can provide consistent, high quality care.
As a result, people living with dementia can maintain their identity and their dignity. Caregivers have an easier time looking for root causes of agitated behaviour. These outcomes subsequently lower stress and improve the experience for people living with dementia as well as their professional caregivers. Aggregated information from many residents can also support smarter planning for institutions, helping with resourcing of groceries or personal care supplies as well as the planning of individual and group activities.